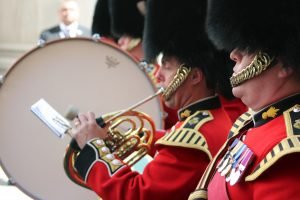 The beauty of a city as diverse as London is that you never know what to expect. But a brass band just as I'm having my morning coffee is rather unusual. And as the music swirled up through the air, keeping pace with the resident seagulls swooping over the streets, I peeked from the window and spied a ceremonial event.
For weeks there had been metal hoarding surrounding the steps to the Masonic Lodge in Great Queen Street, Covent Garden. You couldn't walk lightly across the imposing front door of the building that, strangely, reminds me of the film Ghostbusters. It isn't featured, but you will see this monolithic structure on the screen in many guises.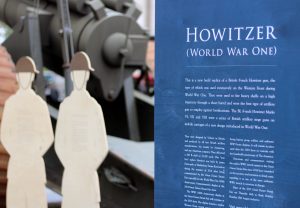 On that morning of 25 April all became apparent. My path has been barred by the laying of memorial stones at the entrance. Here lays a Victoria Cross surrounded by the names of 64 Freemasons who were awarded it during the Great War from 1914 to 1918. It seems a fitting tribute during the 300th anniversary year of the Grand Lodge.
The sun shone, a chill wind whipped up and the band, speakers, choir and audience all paid homage to their fallen members. If you're passing by do take time to look down and reflect awhile amidst the city's general bustle and enjoy a quiet moment of contemplation.