London is more than its material things. It's about the people who populate its streets, the Londoners from all walks of life that visitors meet every day when they're out and about.  Aidan Taylor-Kitching talks to me about his London.
Until recently if you wandered across Tottenham Court Road in central London to New Oxford Street and popped into Starbuck's you would have been greeted by Aidan who supervised the baristas.  His customers were mostly tourists and people working locally. I say recently because this is a young man is on the move. More of that later.
Aidan describes himself a 'a proper Londoner'. Twenty four years ago he was born in the Hampstead Royal Free hospital and has stayed north ever since. For Londoners the boundary line is the River Thames. You either live north or south of the river before east and west gets a look in. And Londoners rarely change their allegiances. Aidan counts Camden, Hampstead and more recently, Chalk Farm among his homes.  It's a city he loves and says, 'when I'm away from London I end up missing it'. However, that won't stop him moving on to discover foreign shores.
He's moving on because, for someone starting out, London can be financially challenging. Aidan would like to own a home one day, but in the capital the options are non-existent. He's going to be heading to Canada, but will always return. He's already travelled a lot and London is still his favourite city.  'London is different to other capitals. It's very diverse. It's almost a country in its own right. It's got a lot of cultures and sub-cultures and moves with the times, but you can see a brand new skyscraper next to a building 300 years old,' says Aidan.
Under the surface
Aidan has a winning smile and an easy manner about him. Regulars at Starbucks would always stop to chat. "Londoners work a lot and there's not much community where you live," he says.  "In London lots of people don't know their neighbours, but if they go to a gym, coffee shop, or supermarket near where they work they'll know everyone in that small area."
London is a fast city. "I can see how it puts people off," says Aidan.  "My aunt doesn't like London because it's too busy, but living here is different to visiting."
Aidan's haunts
"I walk through Camden Town on my way to work and it takes about an hour. It's very diverse and I enjoy that. There are lots of sights to see. There's the market and loads of vintage shops. You can get 70's, 80's and 90's clothes and the stock changes quickly so there's always something new.  My brother's into vinyl and buys his records there."
Places to see
The river Thames links its way through most of London boroughs and walking along the banks is a favourite of Aidan's. He also enjoys, 'the British Museum, Trafalgar Square, Regent's Park, Hyde Park, Hampstead Heath, the Natural History Museum and the Houses of Parliament'.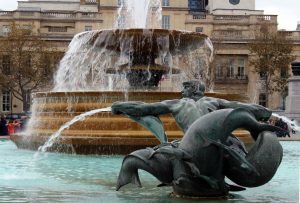 Aidan says he likes 'winter in London for the Christmas lights and summer for all the events'. He recommends 'going places for no reason because there are real diamonds you can miss.' And he loves how each area has its own character and can be very different. "Millionaires in Hampstead rub shoulders with the less well off in neighbouring boroughs," he comments. "You can be on Oxford Street and Regent Street," he says, (the most central shopping streets with some high-end shops), "and turn a corner into Soho (famed for its small streets with sex shops and individual shops) which is so different."
A top tip – 'watch your spending because it can get expensive. And eating out is not cheap. But I like the fact that London has every type of food from Mexican to Indian or Chinese. My favourite would be Spanish'.
Getting there
Camden Market is at Camden Lock Place, NW1 8AF. Camden Town is the closet tube on the Northern Line. Buses 214, 25, 274, 393 will also get you there.
The British Museum is at Great Russell St, Bloomsbury, WC1B 3DG. The closet Tube is Russell Square on the Piccadilly Line.
Trafalgar Square is at Charing Cross, WC2N 5DN. Charing Cross tube has exits onto the Square from the Northern and Bakerloo Lines.
Regent's Park is at Chester Rd, NW1 4NR. The Bakerloo Line from Piccadilly Circus takes you to Regent's Park Tube, which is a short walk to the park.
Hyde Park covers 350 acres and access can be gained at several points from Kensington, Knightsbridge, Bayswater and Mayfair. For ease you can go to Hyde Park Corner and explore it from there. It's on the Piccadilly Tube Line.
Hampstead Heath covers 320 acres and runs from Hampstead to Highgate. It's a 10 minute walk from Hampstead Tube station or a 10 minute walk from Golders Green, which brings you to the Heath Extension (a part of the Heath that feels transported from the countryside). They are both on the on the Northern Line.
The Natural History Museum is at Cromwell Road, SW7 5BD. The closest Tube is South Kensington on the Piccadilly, District and Circle line. They are a five minute walk from the Exhibition Road exit.
The Houses of Parliament are at Westminster, SW1A 0AA. The closest Tube is Westminster on the Circle, District and Jubilee Lines.