London 1887. Queen Victoria's on the throne. Buffalo Bill has brought his Wild West Show to town and the first single malt scotch whiskey is distilled. On Old Compton street in Soho Mr Hassan is opening his Algerian Coffee Stores. I wonder what he thought as he opened his doors for the first time? Did he ever imagine that 130 years later it would still be thriving?
We may be considered a nation of tea drinkers, but Hassan knew we also appreciate the delights of a freshly brewed coffee. It's a testament to our enduring love affair with this dark liquid that this little coffee shop still occupies its original site. It's successfully weathered the years. Today it's still perfuming the air with the aromatic smells of coffee ground to order.
There are many things that make this shop special. I should know as I've been buying my coffee here for decades. Its bright red exterior is like a beacon for coffee aficionados. The shelves in the shop window overflow with beckoning treats.
Its charm lies not only in the magical beans brought from the corners of the world to this tiny outpost. At last count there were over 80 coffees to choose from. It lays not solely in the wonderful speciality teas that number well over 120. Or even in the tantalising chocolate. It's also beguiling because of its history, its character and the faces that serve me.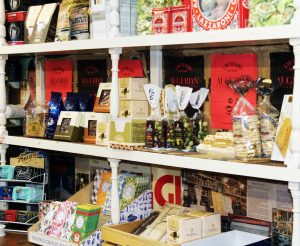 I must admit I'm drawn to the original Victorian shelving, wooden counter and display cases. It's my chance to indulge in a bit of nostalgia. It reminds me of a Victorian café I owned and ran in another life. We had those same shelves.
There's the evocative sound of shiny, rich, dark coffee beans being weighed out to grind. The smells are heady. Taking time and waiting for the coffee to be prepared is a pleasure. It's a chance to pause and look at the exotic teas in labelled containers: to soak in the atmosphere. If the mood takes us we'll have a chat over the noise of beans being ground for this machine or that.
Today's Algerian Coffee Stores has provenance. It's been in the same family since 1946. The successive generations of father and daughter work alongside each other. Manager Marisa Crocetta is the third generation of her family to help run the business. Her grandfather purchased it. It seems this family has coffee in its blood.
Getting there
The Algerian Coffee shop is at 52 Old Compton St, Soho, London W1D 4PB. The closest tube is Leicester Square, which is on the Piccadilly line and Northern line. It's a 5 to 10 minute walk away.
If you take any bus that stops on Shaftsbury Avenue you can very easily and quickly drop into Soho. If you're shopping on Regent Street it's not far. Soho is in between Regent Street, Oxford Street and Charing Cross road.
You can also order your coffee online and find out more here.