Lincoln's Inn Fields. Catch it early at weekends and you'll see dogs taking their owners for their daily constitutional, playing tag with their friends and generally enjoying their daily routine of freedom. Locals will be on the tennis court, all times of year. On days when I've been wrapped head to toe in layers and a feather coat there they are; shorts, rosy faces and working up a steam.
This small patch of calm, where lawyers, London School of Economics (LSE) students, office workers and residents wind down in their quiet moments has been on the local scene since the 1630's. Its history would fill many pages. Former residents included cattle and a theatre. More macabrely, it was the site of a public execution.
Charles Dickens featured it in Bleak House and two steps away is the original Old Curiosity Shop, now displaying hand-made shoes in its windows, but looking very much fixed in Dickens time. And, underlying London's dynamic architecture, the new LSE building opposite is a striking contrast between the centuries.
On the north side is Sir John Soanes Museum. An inventive and respected architect, he was responsible for designing buildings such as the Bank of England. Soanes was an avid collector who decreed that his home should be left untouched as a museum. And it hasn't been disturbed for 180 years. For a visual treat this is well worth a visit. There are paintings by masters like Turner and Canaletto. A sarcophagus from Egypt sits alongside all sorts of curiosities. And all are displayed in his very personal, eccentric, individual manner.
Lincoln's Inn Fields elegant, classic buildings take you back to another era. And the park has seen a few recent changes. Some years ago there were 18th century railings surrounding the grassed areas. I liked them, but they are no more. It was transformed back to how it looked in the past. Now it looks bigger and I no longer yearn for those railings.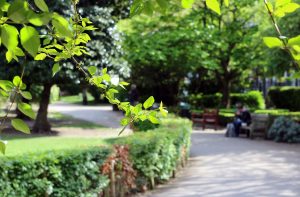 Local tit bits

Visiting Lincoln Inn Fields is a real treat. But you need to ready for the unexpected. Zack, the man, was walking there one day only to discover himself in a scene from a period drama. They halted the action and he passed by in his 21st century attire, rubbing shoulders with an 18th century dressed actor. Keep a sharp eye open and you might recognise the park and its streets featured in Poirot, Downtown Abbey and many Hollywood movies.
Another day as we were taking the evening sun a large fox strolled by, gave us a glance and meandered on.
This is a park to stop awhile in all seasons. Each one brings its fresh coat of blossoms. There are autumn crocus that cut a purple swathe in the grass as the sun sets early. In spring the magnolia tree, planted to commemorate when Queen Elizabeth 2nd was crowned in 1953, springs to vibrant life.
You can picnic all year, or pop in to the park's cafe for a drink or meal. The decision is yours. But, whatever your choice, this little hidden gem is definitely worth a visit.