Oozing, melting hand-produced cheeses
To leave London without tasting some of the country's finest cheeses would be a sin. Best restaurants stock Neal's Yard Dairy cheeses. But why not get ahead of the game and pop into their Covent Garden or South Bank shop and make the choice first-hand. Enjoy a pleasurable experience and become a local.
Neal's Yard Dairy is about atmosphere, smells and the tastes. Cashel Blue, Ardrahan, Durrus, Gubbeen and Ticklemore trip off the tongue like names in a poem. They're cheeses that debunk the myth that only France or continental Europe produce the best.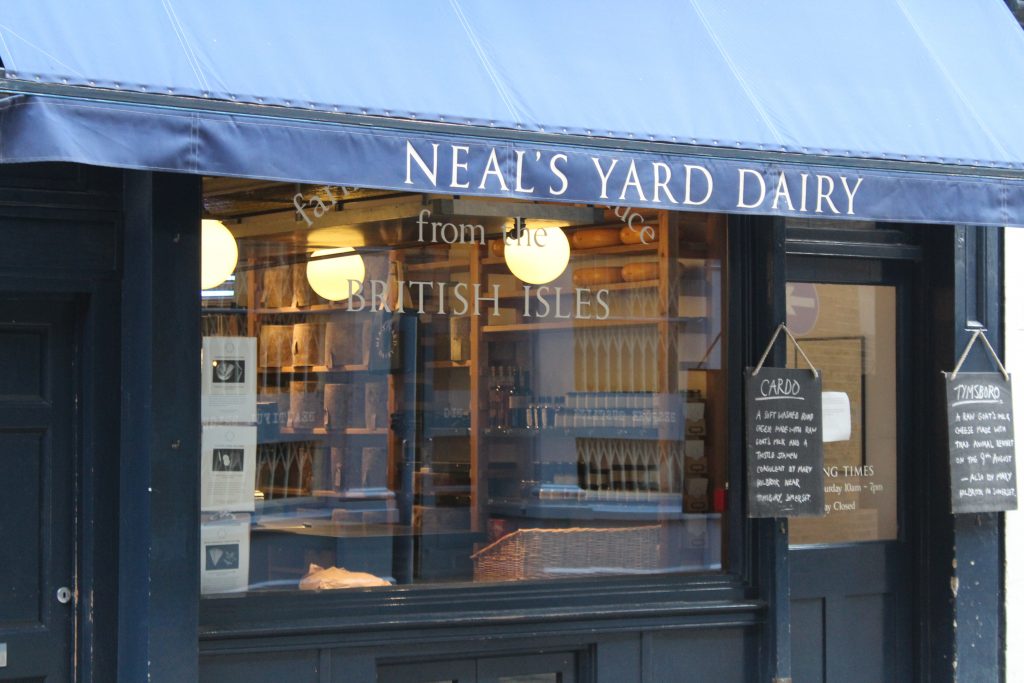 With such an array of cheeses it's comforting to know there are knowledgeable and helpful cheese experts to guide you through the decision making. Here you get to try before you buy.
With white aprons and hats above smiles, they'll tell you about the farmer, the history and the flavours. It's something they do well because this dairy not only works with wholesale clients, but has its own cheese making company, Neal's Yard Cremery in Herefordshire. When they're not down on the farm they're working closely with the producers, often buying young cheeses and maturing them under the railway arches in Bermondsey, South London and Chris George is the man in the know.
The Neal's Yard approach
"A young fresh cheese needs turning often. A rinded cheese will produce different flavours. We wash the cheese in brine, keeping it wet to produce those earthy, meaty flavours," says Chris. Some cheeses will be washed for up to six weeks to produce the required taste. And at the end of the day the customer is king and comments are fed back to the producer. "That's very important," says George. "We want the cheese maker to make the best cheese possible. We build a bridge and create a dialogue between the customer and producer." He also runs events such as tutored tastings if you're in the mood for learning.
The real deal
Compare Neal's Yard cheeses to fine wines and you begin to understand their provenance. They deliver taste sensations unlike anything processed and mass produced. And there will always be subtle changes depending on factors such as the storage process. This is what makes hand produced cheese special, and of course slightly more expensive.
So what to try? Owner Randolph Hodgson, an artisan cheese maker in his own right, created a rival to Stilton, the blue-veined English cheese so popular here at Christmas. Stichelton looks like Stilton, but doesn't qualify to join the ranks because it's made with unpasteurised milk. The result is a creamy, gentle flavour with a subtle kick of blue. It's a moreish recipe.
You could try the only hand-made Stilton, Colston Bassett. Neal's Yard works with this producer to create their own version of the cheese. "This cheese maker is the best producer anywhere," says George. "Our cheese uses animal rennet instead of vegetable. It gives it a better flavour and texture. The maker even told us it was unquestionably better. It's slightly more subtly blue. In a lot of ways we can influence cheese."
Two early 20th century hard cheeses of note are Appleby's Cheshire and Kirkham's Lancashire. For a soft, crumbly and every so slightly sharp cheese I don't think you can beat creamy Duckettt's Carphilly.
Soft cheeses don't require long storage times before going to market and may be on the shelf within weeks. But a hard cheese which could weigh 50 pounds, needs to be stored, turned, looked after and matured, for say 12 months.
Cheese gastronomy
You'll be encouraged to try everything before buying. All of which makes sense because the flavours of a particular cheese aren't a given. They'll change depending on factors such as the milk and the time of year.
A shopping trip to Neal's Yard Dairy, or one of the many market stalls it sells from around London, is a gastronomic experience. And if you've purchased a little piece of Stinking Bishop don't worry. It does live up to its name, but when you get it home, see it oozing out of its waxed paper and taste its creamy, not too pungent flavour, you'll forgive any odour.
Getting there
The Shorts Gardens shop is a couple of minutes walk from Covent Garden tube on the Piccadilly Line, straight down Neal's Street and a left turn.
The Borough Market shop is close to London Bridge tube, which is on the Northern and Jubilee lines.
17 Shorts Gardens, Covent Garden, London, WC2H 9AT.         
6 Park Street, Borough Market, London, SE1 9AB.