Taking tea the Twining way
If you're after a truly English tea experience then a stroll down the Strand towards Fleet Street in WC2 is a must. For over 300 years a tiny corridor of a shop has been supplying London's tea connoisseurs with high quality tea. Twinings – the Strand is squeezed into what was a passageway between two buildings, number 216 is a treasure trove of teas. They are drawn from plantations worldwide, stamped with the Twining's label and a must for any tea snob.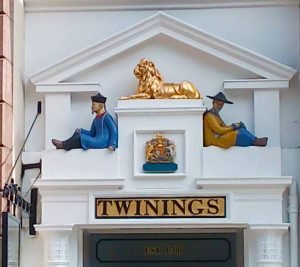 Buying tea from Twining's tea shop – opposite the Royal Courts of Justice – is a heady experience of smells. Fancy a green tea with mint? Then unscrew the top of the sample pot and breathe in the aroma. This is one of my favourites, but if you fancy any number of different flavours just take your pick and let your nose do the choosing.
If you want to try before you buy, then pop yourself down to the sampling counter at the end the shop. One  of the Twining's helpful assistants will talk you through your choices of new teas and premium blends at the tea bar.
When Thomas Twining opened up his coffee house on London's Strand in 1706 it was at the height of the coffee boom. Drinking coffee was a popular pastime and coffee houses were to become the haunt of people like Samuel Johnson, whose house can be found in the passageways further down Fleet Street.
Roll forward to the 18th century and tea was now the fashionable trend. Jump further forward to today and tea has changed from its pure form to cater to our many varied and sophisticated tastes. White, black and green tea all beckon from the shelves along with any number of fruit and herbal blends.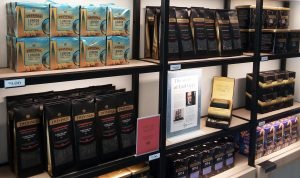 In August 2020 the interior of Twinings emerged with a new bright, modern look. Now buying tea from this little shop takes you on a journey from the slopes of tea plantations into history. Displays reveal Twinings past. Pop a card into a slot and listen to a tea pickers' story.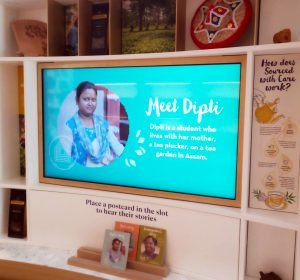 I would go as far to say that even if you think you don't like tea, this little tea shop is a worth a visit as a truly London experience.  And if you've caught the tea bug you can sing up for a masterclass with a Tea Ambassador. What's not to like?
Getting there
Twinings is opposite the Royal Courts of Justice at 216 Strand, London, WC2R 1AP.
The closest tube is Temple which is on the District and Circle lines. Buses which stop directly opposite the shop are numbers 4, 11, 15, 23, 26, 76, 172, 341.
You can find out more here.