There's something nostalgic happening the kitchen. Cup cakes are all the rage once again. And there's no denying that a cake that hits the spot may well take you back to watching mum baking and waiting for that moment to lick the cake bowl.
Let's face it cakes are comforting. There's great pleasure to be had from enjoying a really good cake. But there are impostors that masquerade temptingly as the real thing. They get dressed up with frills and colours, but fail to deliver. A cake that does the trick is about more than looks. It must deliver what it promises. Yet, there's no denying that appearances are important.
Part of the pleasure of eating cakes starts when you stand in front of the cake display and ooh and aah in your mind at the delicacies laid out like jewels in Tiffany's window. And a cake shop that delivers well on this front is of course French.
A bit of oh, la, la
Masion Bertaux in London's Soho, has that stylish, yet slightly saucy, feel about its cakes. It's been delivering pastries and cakes to satisfied customers since 1827 and seems as fashionably current now as it most likely did when it first opened. I certainly remember it's popularity decades ago. When I lived elsewhere I would always make a stop at Bertaux's for my favourite chestnut meringue when visiting London.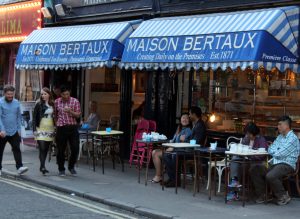 Here there are tarts shining with glazed fruit. Creamy cheesecakes vie for attention with flamboyant meringues topped with ribbons of twirled chestnut. They do a mean almond croissant, which if you get it went it's warm from the oven is meltingly perfect. And as with most cake shops, these days you can sit and enjoy as you watch Soho's colourful life pass you by.
Bertuax's cake and pastries are born out of the traditional French school and the shop has always had its quirky side. Formica topped tables hark back to another era. The walls display an eclectic mix of memorabilia, and the occasional mini-theatre has been known to spring up in the small upstairs rooms. All of which somehow adds to the cake experience.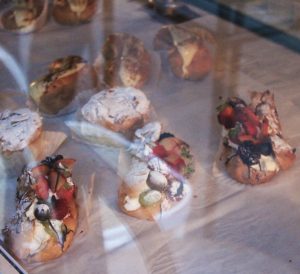 A British and German take
Another cake shop of note in the capital, now with six shops, is Konditor & Cook, which owes much more to the British style of cake making.
Set up 15 years ago by Gerhard Jenne it's a cake shop with a difference. Jenne describes his cakes as 'the sort of cakes you would make for yourself if you had the time'. He says, "They are honest cakes. Everything's made from scratch with natural materials."
But it's not just the ingredients that elevate his cakes, it's also the decoration. He likes to think of his cake decoration as 'contemporary'. "It's for the rock and roll generation," he says. So expect to see the hugely popular Magic Cakes decorated with anything from sheep, shamrock and hearts for Valentine's Day. These sponge cakes are a hit and he supplies them individually designed for weddings and corporate events. Jenne says, "I've managed to make food a bit of a gift." He sees cakes as the perfect alternative to that bottle of wine.
Konditor & Cook's best sellers are the Boston brownies and the curly whirly chocolate sponge cake with vanilla bean frosting. Equally good is the chocolate gateaux with raspberry. The chocolate is dense and darkly smooth and then the raspberry kicks in, the tanginess complementing the richness perfectly.
These cakes are very much British with a hint of something other, but although Jenne is German he says 'he's never actually done German cakes', but admits that the quality control is probably German.
When you're hunting for the perfect cake that one thing that stands out as essential is that it's handmade with passion, which is what Maison Bertaux and Konditor & Cook have in bundles. Go on; splash out and enjoy.
Getting there
Maison Bertaux, 28 Greek Street, Soho, London W1D 5DD Tel: 020 7437 6007. The closest tube station is Leicester Square on the Northern and Piccadilly lines.
Konditor & Cook –visit www.konditorandcook.com for venues