Go to town on a native oyster
London's catching up to Paris in the oyster stakes. It may not have the same number of oyster bars, but what it does have are memorable. There are the notable fish restaurants such as Sheekey's where you can try you're hand at the odd dozen – 12 that is. But I reckon for uniqueness of setting you can't beat the champagne bar at St Pancras station. There can be no better place to sit eating oysters, already feeling at though you're in some distant part of Europe as you watch Eurostar leave the station. If it's nippy, just flip on the little heater by the seats and ask for a traveling rug and you'll be tucked up nice and cosy for your gastronomic journey. And as those tasty delicacies slip down consider you may well be eating a native oyster, because oysters have been growing in British waters since the last Ice Age.
Magical mud
As a child I used to wade through Mersea island mud with my bucket and spade, and oh what a struggle it was. Little did I realize, this wasn't your everyday sort of mud. No, this is the mud that helps produce the distinctive flavour of local Essex oysters. As Alex Grundy of Colchester Oyster Fishery explains, "It's the mud that gives them the natural advantage. It has a high mineral content, particularly zinc, which gives them their aphrodisiac quality." Add to that the tidal waters of Pyefleet Creek and the Colne Estuary, where they grow, and you have a potent mix. "As the tide comes in they open and shut on a daily basis," says Grundy. "When the tide goes out they close to hold the water and that strengthens the muscle. The larger the oyster the sweeter it is."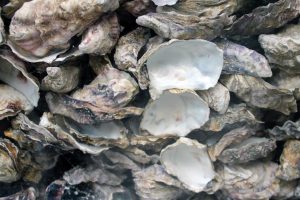 Today oysters are back in vogue and the Colchester Oyster Fishery supplies over 1,000 restaurants with oysters, many of them holding Michelin stars. So Mersea oysters make it onto London's tables, such as the Ritz and Le Gavroche.
The taste sensation
The delight of eating oysters is so simple and yet so sophisticated. So simple because they need very little accompaniment, and so sophisticated because of their subtle fishy flavour. The taste of the sea should fleetingly touch your lips as you swallow your raw oyster. All it needs is a little Tabasco, lemon or maybe shallot vinegar to complement the fleshy fish and you have perfection. It's no surprise that enjoying the feast with a glass of champagne rounds off the experience magnificently.
Grundy describes the native oyster as having a 'sophisticated, sweet flavour'. Their farmed rock oysters, which are laid out in lanes in Pyefleet Creek, have a rich, nutty flavour. This is attributed to the plankton and minerals in the water. And while there's no doubting the pleasure of consuming oysters, let's not forget this is enhanced by the theatre surrounding them. Because the mystic of oysters is also bound up being a delicacy for special occasions and celebration.
If you can't stomach the thought of raw oysters you could try them cooked. To the puritan this would be sacrilegious. But it's a way of teasing yourself to eat the real McCoy, because otherwise you'll be missing out on one of nature's real treats.
My first taste of this delicacy was at an oyster roast on the river in Washington, on a remarkably mild February day. They were cooked in spices and the flavours were as good as the setting. And of course you can't separate the two.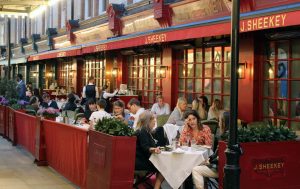 Sheekey's in central London do a fine line in oysters. I graduated to eating them raw at St Pancras where they were very special indeed. And of course it's a thrill to slip down an oyster watching the Eurostar sliding out towards Paris. All of which goes to show time and place are equally important.
Getting there
Leicester Square tube, on the Northern and Piccadilly line is one minute around the corner from Sheekey's.
J. Sheekey Oyster Bar, 28-35 St Martin's Court  London, WC2N 4AL.
Kings Cross tube, on the Circle, Piccadilly, Hammersmith & City, Northern, Metropolitan and Victoria line is just across the road from St Pancras.
Searcys Champagne Bar, St Pancras International, Kings Cross, London, NW1.