Hidden treasure in a strong room at the Museum of London
It's the 15th century in Cheapside (EC2) in the city of London. This is the centre of the goldsmiths' trade. Locals and foreigners flock to the several hundred premises, impressed with the display of gems and jewels for sale. Fast forward to the 20th century and London's survived the Great Fire and the plague. The sparkle on the street has disappeared and the tarnish has set in. Shops have closed; only a few buildings and tenements survive. And then on the 18 June 1912 workmen enter 30-32 Cheapside to start demolition. This would be a memorable day.
Hazel Forsyth, a senior curator at the Museum of London, describes the moment. "Builders were in the cellars and started breaking through the floor and found this cache of around 500 extraordinary gems and items."  What they unearthed was incredible treasure, now known as The Cheapside Hoard, which is now housed at The Museum of London.
Beyond compare
"The Hoard is the finest collection of Elizabethan and Jacobean jewellery in the world," comments Hazel. And emphasising its importance says, "It's probably the most remarkable find ever recovered from British soil."
Today, the majority of the pieces are at the Museum of London. Yet sadly, despite their international fame, the whole collection has never been completely catalogued or exhibited in its entirety. For 100 years a basement strong room has kept this amazing collection from public gaze.
Cache of riches
In a nondescript corner surrounded by cages of building materials and paint pots is an equally non-descript door. Several keys, doors and lock combinations later, Hazel is unlocking a cupboard and bringing out tray after tray. She turns on a very ordinary desk light and low and behold in small foam-packed clear plastic boxes is the very extraordinary – a quite tantalising display of gems lying in their trays. There are garnets from India, emeralds from Columbia, turquoise from Iran – the most astonishing array of precious and semi-precious stones from around the world.
A beautiful deep red cut almandine garnet was, I'm told, tied to the forehead and used as a cure for melancholy. A small mottled brown, grey stone looks like a polished acorn cup. This is one of 14 toadstones and is from a fossilised fish tooth and approximately 150 million years old. At the time people thought they came from toads and would kill them to extract the stone, which was believed to be an antidote to poison.
Dust and dirt still cling to many pieces.  They are being preserved until forensic testing can hopefully reveal the Hoard's origins. The owner of the collection still remains a mystery.  "Clearly it was stock-in-trade because there are many unworked pieces," Hazel explains.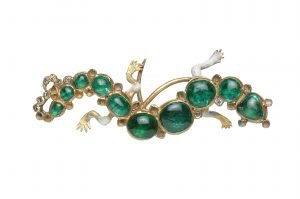 One detailed worked piece is a gold enamelled backed brooch in the form of a salamander. It is one of the finest jewels in the collection. Set with cabochon emeralds and small table-cut diamonds it has tiny feet and looks like it could climb out of the tray.
Looking at the highly intricate gold filigree work, the enamelled long necklaces fashioned into flowers, and stones cut with figures and inscriptions, it's easy to understand Hazel's passion. The quality and quantity is amazing. But the history makes it equally fascinating.
From foreign shores
The stones and gems may well have travelled the world before reaching London. And Hazel speculates, "Some could have been taken from a pirate ship." Whatever the origin, there are unique pieces.
The last tray emerges, revealing one of the stars of the collection. Nestled safely in its case is a gold verge watch set in a massive hexagonal formed Columbian emerald. I know the dial is overlaid with translucent green enamel and the rosette-shaped suspension loop covered with white enamel, because I've seen a photograph. But the watch is so delicate it can't be opened and I have to be content with marvelling at the cut of the emerald and its colour.
It was a privilege to see such a stunning collection that was not only extraordinarily beautiful, but one that can hopefully speak so much of London's history. One piece that Hazel thinks symbolises the collection isn't the rarest or the most valuable. It's a small hatpin. A large pearl forms a ship. Attached to it are a delicately worked, gold mast, rigging and a rotating pennant. It speaks of pirate ships and buried treasure and neatly sums up the collection's history.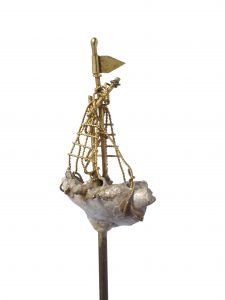 While much of the Hoard is still awaiting restoration, there are some pieces on display that give a glimpse into London's past, revealing a little of life in those times. The good news is that the Museum of London is creating a purpose built gallery for a permanent display of the Cheapside Hoard. It will be at their new museum in West Smithfield, which is scheduled to open in 2024. Watch this space.
Getting there
Museum of London is at 150 London Wall, EC2Y 5HN. This is a five minute walk from the underground at either St Paul's or Barbican Stations. St Paul's is on the Central line. And Barbican is on the Hammersmith & City line, or Metropolitan line.
Buses that pass that way are numbers 4, 8, 25, 56, 100, 172, 242, 388, 521.
For more information visit www.museumoflondon.org.uk
All images are ©Museum of London