In every corner of the UK you will find one, or two or more. They change their characteristics depending on where they are. If it's a country pub you're after, then picture a thatched roof, a roaring log fire in winter, a beer garden in summer and locals with cream Labradors sitting at their feet. There are pubs with traditional fare, like pies and mash and gastro pubs with fancy menus. City pubs are full of wooden panels, etched glass and a mix of customers downing pints of ale, glasses of wine and even the odd cup of coffee.
Pubs reflect the locals, the area and its architecture. Old, traditional pubs in London often have their own potted history, giving you an sight into the city's past. Spotting pub signs is an interesting pastime.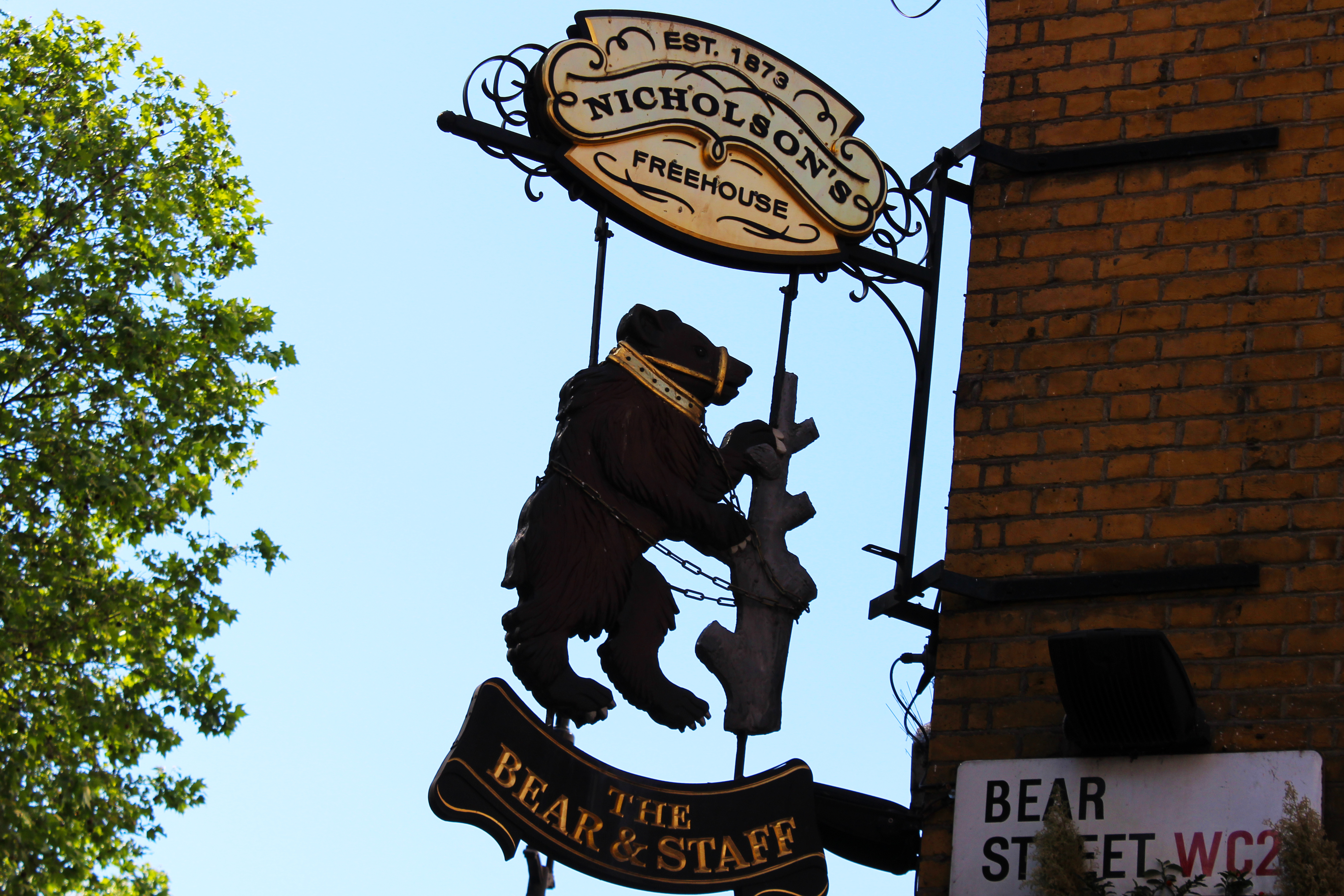 Take for instance, the Bear & Staff, on Bear Street in WC2, just on the corner of the entrance to Leicester Square. The sign has a bear with a golden collar holding a staff. There's been a pub here since 1714. And the current pub, dating from 1878, has counted Charlie Chapman among its customers.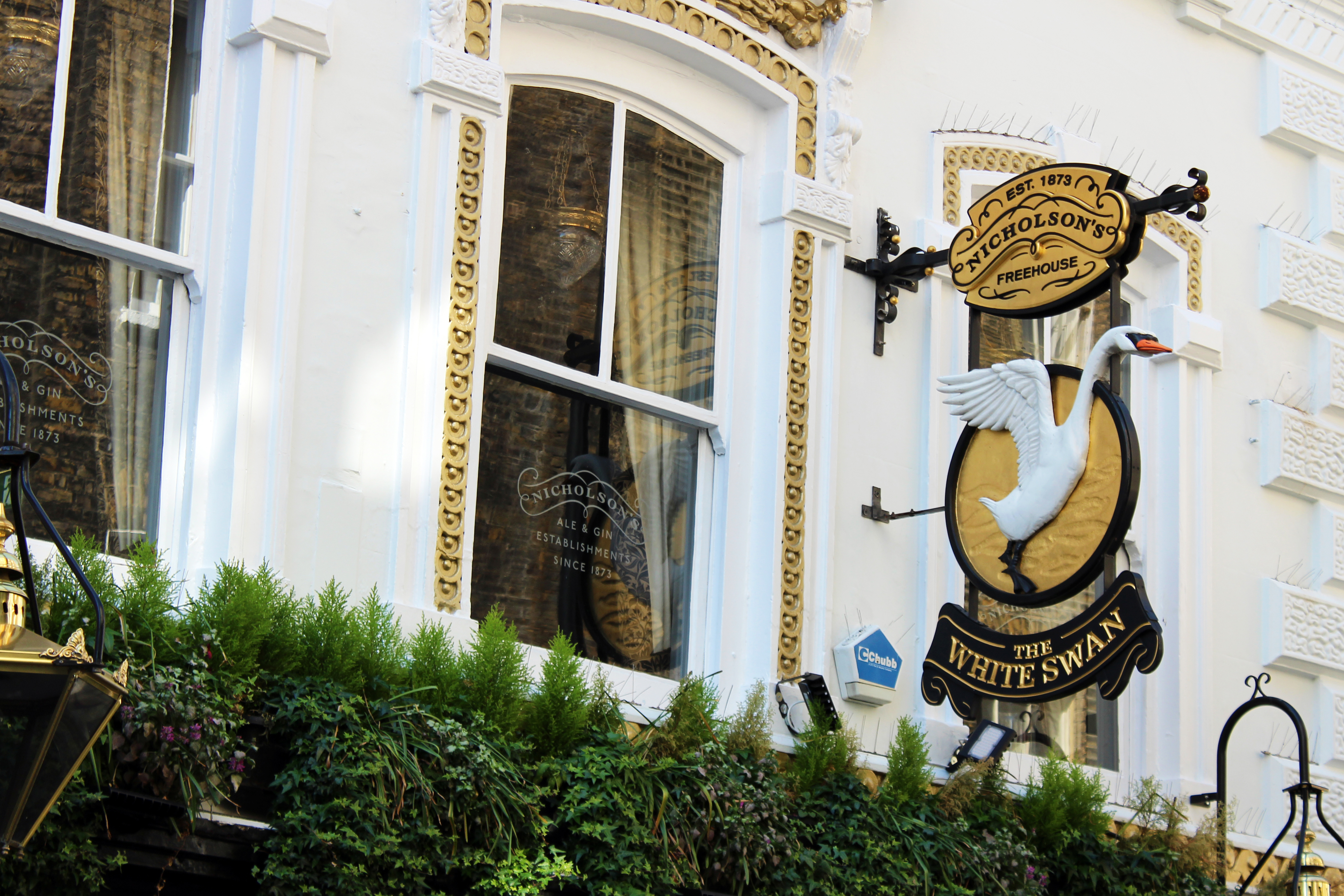 Many central London pubs have notable connections. The White Swan in Covent Garden features in a Dorothy L Sayer novel, Murder must Advertise.
Ye Olde Cheshire Cheese on Fleet Street reeks of its literary associations. It's a Grade II listed public house that was rebuilt after the Great Fire of London in 1666. Here you can saviour the atmosphere left by the likes of Charles Dickens, Mark Twain and Samuel Johnson, to name a few. Even Hercule Poirot appeared here in an Agatha Christie novel, The Million Dollar Bond Robbery.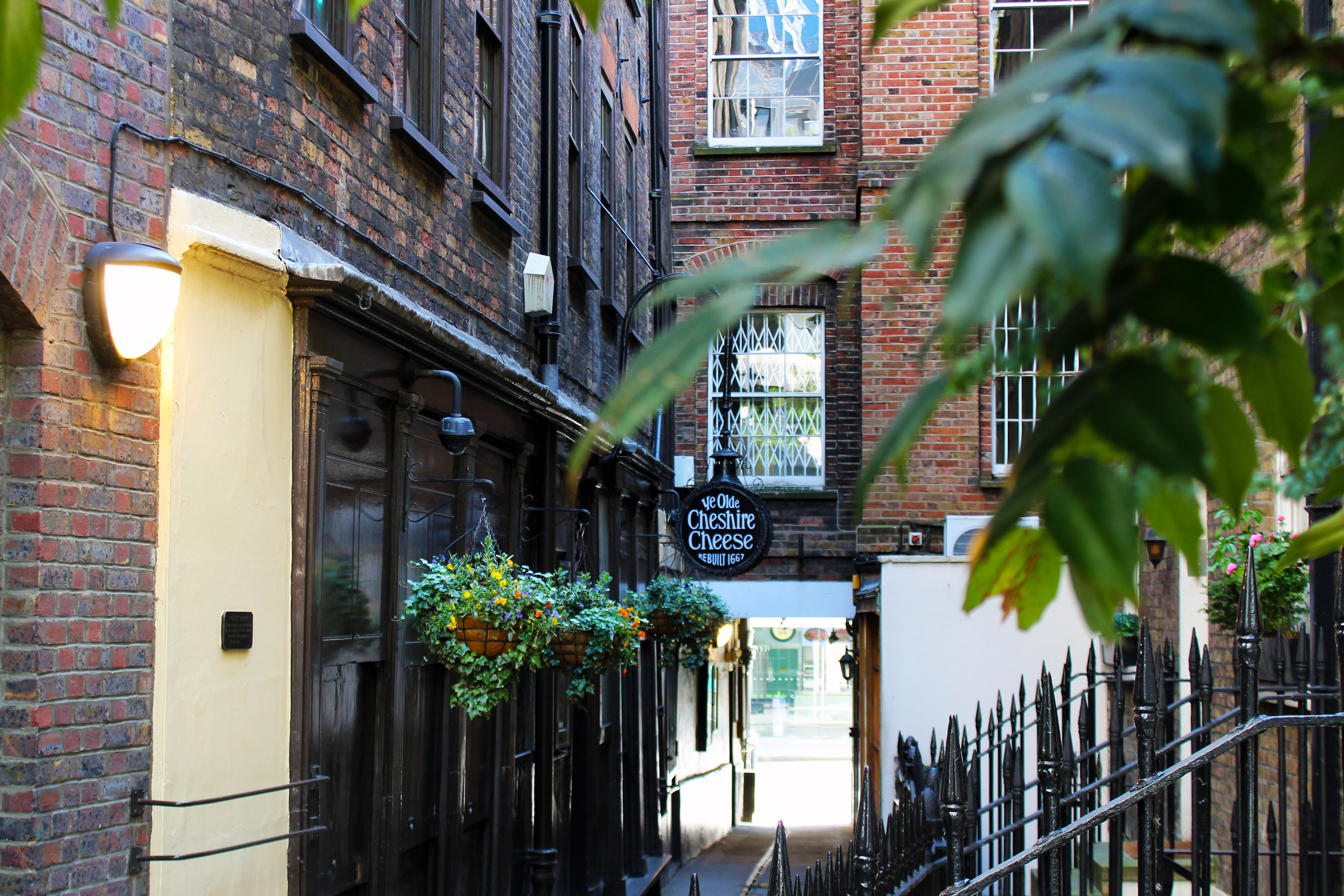 A bit of background
It was way back in the 17 century that the word 'public houses' became popular in Britain. Of course,  taverns and the like existed well before then, but it was the public house that stamped its individuality on those premises selling alcohol. The pub, as its now known, sprung up across the landscape and has became the focus of many local communities. In the 1800's Samuel Pepys described the pub as 'the heart of England' in his diary.
Pub lowdown
Most pubs are owned by a brewery and exclusively sell their ales. You'll see their names on pub signs. There are 'freehouses', which are not 'tied' to the brewery and so have the license to sell whatever they like. Beer aficionados will head to a pub selling their favourite. Maybe it's IPA, a bitter beer from Greene King, or London Pride ale from Fullers. They're two of the larger breweries. Many smaller ones have popped up selling specialist craft beers for the devoted.
I'm partial to an Adnams Old, which is only available from October to January. Adnams brewery is based in Southwold in Suffolk, but you can get many of their bottled beers elsewhere. They say Old is, 'brewed with East Anglian pale ale and Crystal malted barley and Boadicea hops. It's dark red/brown in colour with an aroma of caramel and nutty chocolate'. What's not to like?
Southwold by the sea
If you want to sample Adnams in the place of it's origin then take a trip out of London to Southwold, where a whole different England opens up. To me it's like winding back 50 years. There are nine village greens, beach huts of various hues, grand Georgian houses, a pier and a high street with charming individual shops. Southwold is a town slow to catch up with modern life, thankfully. It was only 14 years ago that Adnams Brewery phased out the Percheron horses that pulled the drays with kegs of beer to their destinations. It was a marvellous sight. Delivery methods have sadly changed, but despite that, the spirit of a lost era is still alive in Southwold.
Back in the city, with a different pace of life, some London pubs spill their customers out to the street for al fresco drinking, summer and winter. Others provide a quiet bolthole from busy city streets. Whatever your choice, a visit to a pub will get you in the London mood. It may even introduce you to a beer or two that will become a favourite tipple.
Getting there
The Bear and Staff is at 10-12 Bear Street, Charing Cross, London, WC2H 7AS and the closest tube is Leicester Square on the Piccadilly and Northern Lines.
The White Swan is at 14 New Row, Covent Garden, WC2N 4LF and the closest tube is also Leicester Square.
Ye Olde Cheshire Cheese is at 145 Fleet Street, EC4A 2BU and the closest tube is Holborn on the Central and Piccadilly Lines.