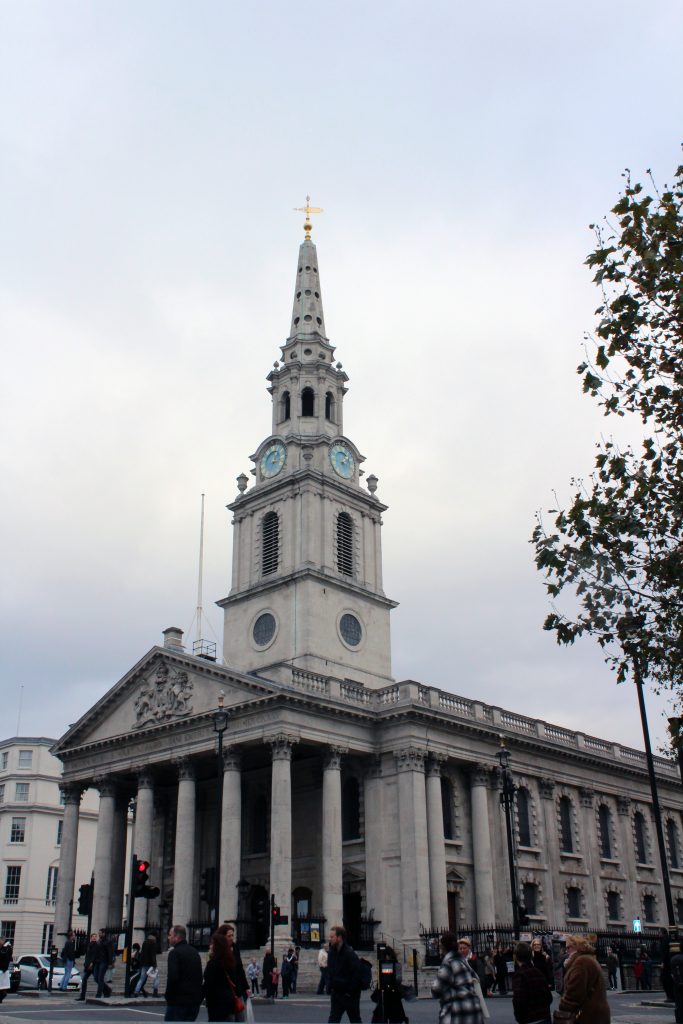 Like all tourists to London you will discover Trafalgar Square where on one corner sits the impressive 13th century church, St Martin-in-the-Fields. There is bright, sparkly 21st century renovations, beautiful architecture and evening concerts. What won't be as obvious is the work going on behind the scenes. Because this parish church, in London's centre, is much more than what's on show.
Unusually the church is run by two chief executives. According to the Reverend Nicholas Holtham, who was vicar at the church, "There are very few churches on this scale. Every week there are 20 plus services, six concerts and 700,000 visitors every year. When you consider the Chinese peoples' day centre; The Connection at St Martin's; a day and night centre providing outreach for homeless people; the café, the shop and the brass rubbing centre, you begin to get a feel for the size of this operation."
Still pioneering
St Martin has always been a ground-breaking church. It was involved in the Anti-Apartheid Movement and the founding of many charitable organisations, including Amnesty International, Shelter and The Big Issue. It has one of the world's foremost chamber ensembles – The Academy of St Martin-in-the-Fields and its candlelit concerts are hard to beat. It's a church where people of different faiths regularly pray together.
St Martin has helped form the world around it, architecturally, spiritually, culturally and socially. Their work with homeless people has turned lives around.
A story Holtham tells of his time there is about a young man in his mid-twenties who was sleeping outside the church for six months. "He started to come to church every day, but it was four months before he spoke. When he did he said, "If you haven't spoken for some time you can't find the words". It was extraordinary." Seven years on he's earning a living and back in his home town with ongoing support from the church and other agencies.
The vicar's day
Holtham says, "The thing about being a priest is that you're given space, you're given time to be with people, to pray, to be one of the people in a religious community where you're part of the fabric of the place." All sentiments that are neatly summed up in his favourite day at St Martin's.
"The day started with prayers in church. Then I went home and picked up our two youngest kids and walked them to school through Leicester Square. One of the guy's who was homeless and drunk on a bench swore at us. I then cycled up the Euston road to meet a rabbi and Roman Catholic nun at the Council of Christians and Jews.
"After that I cycled to the Dorchester Hotel where President Mandela was giving a State Banquet for the Queen on his visit and I said the grace. Then I went to see a friend in Wormwood Scrubs, and he was a friend, somebody I used to work with who was in prison for fairly serious offences.
"And then I came back to run an education course in the evening. I just think the range of experiences in that day is the reason why churches are inclusive. Frankly if I didn't believe in God I think I might still go to church because they're such extraordinary communities."
So when you marvel at the building, or tuck into one of the really tasty meals served up in the Café in the Crypt, you'll now know just a little of what makes this great institution work.
The Christ Child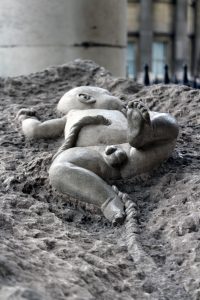 You never know what you'll see when you visit St Martin's. Once I was surprised to see a small child nestling in a sculptured block. He looked comfortable, at home. This was Mike Chapman's interpretation of the Christ Child. Known as 'In the Beginning' or the 'Millennium Sculpture', the outdoor sculpture was located under the portico of the church.
The opening text from the Gospel of John is inscribed around the sculpture: "In the beginning was the word and the word became flesh and lived among us." The sculptor commented, "It seemed to me that a tiny life-size baby carved from stone in such an enormous environment would be the best way to remind us all of just whose birthday we were celebrating." Whatever your persuasion, you'll be hard pressed not to warm to this vulnerable figure, naked and exposed, yet seemingly at ease.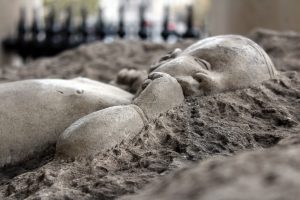 Getting there
St Martin-in-the-Fields is located in the northeast corner of Trafalgar Square. It's a few minutes walk from Leicester Square and Charing Cross underground stations. Leicester Square is on the Northern line and Piccadilly line. Charing Cross is on the Bakerloo line and Northern line.
Bus routes include numbers 3, 6, 9, 11, 12, 13, 15, 23, 24, 29 53, 87, 88, 91, 139, 159, 176 and 453.
www.stmartin-in-the-fields.org