Today we're all rushing around like the white rabbit in Lewis Carroll's Alice in Wonderland shouting, 'No time, no time'. But then again Carroll was on the right track with the Hatter's tea party. Because in times of stress, how better to chill out than relaxing over afternoon tea. So, sleepy dormice and March Hare's aside, where best to have a little indulgence?
In the capital there's a tea room to suit everyone. Tea and its accompanying fancies have come of age. Afternoon tea is a ritual to be enjoyed with friends, an occasion to be savoured. So if it's 4pm and you're ready to relax and recharge, why not head to one of London's hotels and enjoy a little luxury?
If you find yourself on Piccadilly in the West End you'll be spoilt for choice, because near Green Park there are three excellent tearooms. And if awards mean anything your first stop should be Brown's Hotel on Albemarle Street. That's because they received The UK Tea Council's highest accolade, the Top London Afternoon Tea Award. It's the Michelin star of the tea world.
A tea serenade
Brown's English Tea Room is elegant and luxurious. With exquisite food and friendly service, it epitomises the perfect afternoon tea. Two dedicated tea sommeliers will advise on the teas on offer. You can even take home a sample of the blend you've enjoyed. Once chosen, it's just a case of sitting down, listening to the live piano music, and enjoying the delicacies on offer as you give yourself the ultimate treat.
There are freshly baked cakes from the trolley, succulent finger sandwiches, delicate pastries, and fruit and plain scones with clotted cream and strawberry preserve. If you're pushing the boat out, you can add a glass of chilled white or rose Tattinger champagne. Whatever the choice, this will be a landmark in your calendar.
A Piccadilly walk
Back on Piccadilly is The Ritz, and a couple of doors down The Wolseley. Both made it onto the Tea Council's special Awards of Excellence list. While Brown's has the feel of a comfortable, sumptuous country house, The Ritz is, well, ritzy. They too have a pianist, but there's a dress code; jackets and ties for men, and no jeans or trainers. A twist on the traditional tea is their chocolate afternoon tea. You can swap tea for drinking chocolate with vanilla chantilly and enjoy any number of cakes and biscuits on the chocolate theme.
If you don't meet the dress requirements there's always The Wolseley a few steps away. Here the ambience is more relaxed and a less expensive option. But this is nonetheless a treat, and excellent food.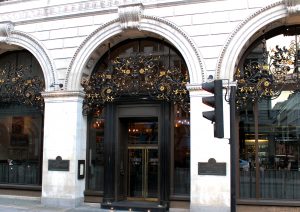 As required by the proper traditional afternoon tea, there are finger sandwiches followed by pastries and fruit scones with home made jam and clotted cream. And like Brown's and The Ritz, you would be advised to book ahead. If you're lucky, Peter will be on the door to welcome you with a friendly smile.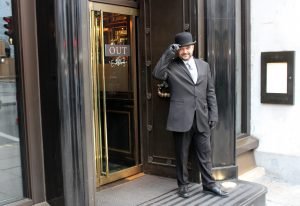 We Brits think of traditional afternoon tea as a British invention. However, it was only introduced to the country in 1706 by the Thomas Twining Company. By the early 1840's teatime was said to be introduced by Anna the 7th Duchess of Bedford and London's first Lyons teahouses opened in the 19th century. Now of course you'll be spoilt for choice as to where to get that cuppa. But, wherever you are, there can is no better pick-me-up than a shot of tea with a creamy confection. It's the best antidote to a frazzled lifestyle and extremely tasty too.
Getting there
The closest tube station to all three venues is Green Park, which is on the Piccadilly, Jubilee and Victoria lines.

Brown's Hotel, Albemarle Street, London, W1S 4BP. Tel: +44 (0)20 7493 6020. 
The Ritz, 150 Piccadilly, London W1J 9BR.Telephone for afternoon tea reservations +44 (0)20 7300 2345.
The Wolseley, 160 Piccadilly, London, W1J 9EB. Tel: 020 7499 6996.