Looking for a quiet and unique corner of central London? Why not visit New Square, by Lincoln's Inn Fields?
The square is set in Lincoln's Inn, which is the centre of the legal profession for barristers. It's one of the four Inns of Court to which barristers belong to. If you ever wanted to see a bevy of barristers, this is the place to visit. Barristers' chambers, historic buildings, professional offices, residential accommodation and a chapel are spread across 11 acres in this prime site in central London.
When you walk through the area, you can feel the history and its legal weight. But it also has a sense of calm about it. It's a peaceful oasis. On a spring day, when the daffodils are in blossom, there's a warm breeze on the air and the birds are in high spirits.
Lincoln's Inn is on the far side of Lincoln's Inn Fields. The Fields are the largest public square in London and were established in the 1630's. They take their name from the Inn.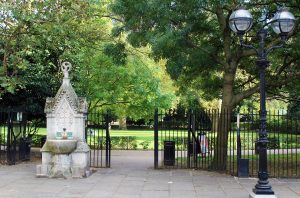 To give that some context, we have parks and squares here. Squares usually sit surrounded by rather grand houses that border them. You can normally only gain access to a square if you live on its streets and have a privileged key. But not in the case of Lincoln's Inn Fields. Some might think this is a park, but strictly speaking it's a square.
If you make your way through the square to the east side you'll see a redbrick porticoed entrance with a gate keeper's room at the side. This is the entrance to New Square.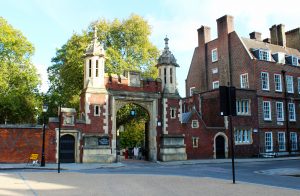 New Square
Walking past the keeper's small room is like going into a Cambridge University college. It has that feel of reverence. In front of you is New Square lawn with fountains and wrought iron gates, which was first built in 1683.  One day I saw two hawks perched on small stands. I can only assume that they were given free flight to scare off the pigeons that tend to congregate in the area. They were a very fine sight.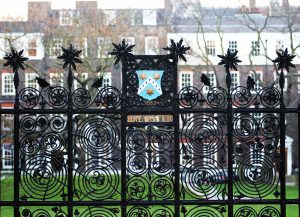 The first garden recorded at the Inn was the Long Garden, to the North of the Inn's quadrangle of buildings. This was a kitchen garden. It was used in 1445, by cook Richard Bennett, to produce food for the Inn.
Stepping back in time
One Chamber amuses me every time I pass by. In case you are wondering, a Chamber is the legal equivalent of an office or room. Each grand Georgian building has a long board by the frame of the door with the names of the barristers residing there written in elegant typeface.  Before you enter you are already awed by the gravitas of such script. And there may be twenty or more to scroll through to find the one you're after.
But, back to my Chamber. This one feels fixed in a past time. Looking down into small rooms you see piles upon piles of files heading high towards the ceiling. This looks like a room from a Dickens novel, not a 21st century lawyer's office. In fact Charles Dickens' novel Bleak House features a sinister solicitor, Mr Tulkinghorn, who has his offices in Lincoln's Inn Fields. One only hopes the current incumbent is a more pleasant character with a good memory to find their cases.
New Square and its surroundings is packed with visual treats. Turn you gaze skywards and you'll see statues of people and animals looking down on you as the sun sets and the moon rises.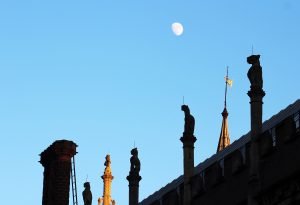 There are golden spires, gardens sparkling with blossom, street lights lit by gas and paths well-trod over centuries. No wonder it's made a fitting setting for the likes of Downton Abbey and many more films.
Getting there
Lincoln's Inn is in WC2A 3TL. It's open 7am to 7pm Monday to Friday. New Square sits in the middle of an area bounded by four roads: High Holborn, Kingsway, Strand and Chancery Lane.
It's a stone's throw from Holborn and Chancery Lane tube station.  You can take any bus that stops by the Royal Courts of Justice on the Strand, just before Fleet Street, and then drop into the back streets and it's a few minutes walk away.