On a warm, sunny spring day my friend and I stepped through the gates of Brompton Cemetery into its 40 acres of tree-lined avenues and tombstones. On a gentle breeze there was the overwhelming smell of flowers. From where, we don't know. Nothing seemed to be blooming,  yet the fragrance pleasingly followed us for the afternoon.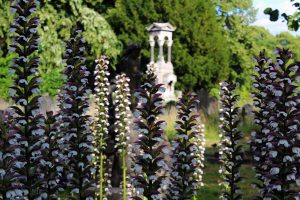 This was not just a trip to see one of London's largest and impressive cemeteries, but a pilgrimage to visit the grave of an ancestor buried here in 1922, but more of that later.
Brompton Cemetery nestles between Fulham Road and Old Brompton Road in west London in the Royal Borough of Kensington and Chelsea. Wildlife take refuge from the city in this Grade 1 listed space. The air is rich with birdsong. It's a relaxing and peaceful space.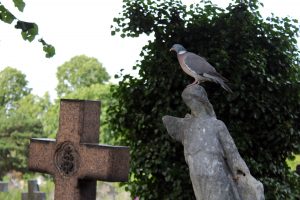 There are cedars of Lebanon, symbolising purity and everlasting life and weeping silver limes representing sorrow and mourning. Dominating the tranquillity, are the impressive 35,000 graves and 205,000 internments. There are simple tombstones and elaborate mausoleums lining the pathways.
Notable graves
With such ornate graves it's not surprising to learn that the cemetery is populated by a wide variety of well-known, successful people. Emmeline Pankhurst, who pioneered the suffragette movement, takes her place alongside actors, scientists, soldiers and socialites. Bill Cody bought a plot for North American Chief Long Wolf, who died in London. He was subsequently moved back to the US in the 1990's.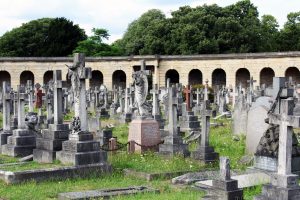 There's a Russian Orthodox leader, a prize fighter and an exiled Indian princess. Sir Samuel Cunard, who owned the shipping company and Samuel Leigh Sotheby, who founded the auction house, lay among the writers and artists. And the artist I was after is John William Godward.
In search of family
Finding where graves are is helped by an online database where you can search the records of those buried here. I discovered that John was buried in the Grand Circle. The spot was marked, but of course it was not as easy to find as you might imagine. The two of us faced a tricky task, searching names on tombs, while avoiding stepping all over them. But, we succeeded. Well, to be honest, my friend found him first.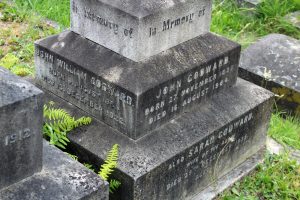 Not only was John William's name on the tombstone, but other members of the Godward family. There were other John's, which was no surprise. John was the family name passed down through the generations. It ended with my Uncle Jack (aka) John, some years ago.
The Great Circle which provides the Gothic backdrop to John William's grave has distinctive colonnades and as such has provided a stunning backdrop to many films. It's nice to think he may have appeared on screen, albeit not in life.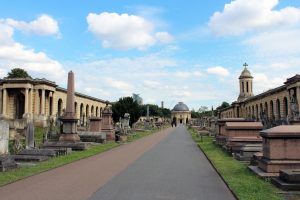 Who was the man?
John William Godward was an English painter of note from the end of the Pre-Raphaelite/Neo-Classicist era. He was a member of the Royal Academy and a protégé of Sir Lawrence Alma-Tadema. Sadly he became estranged from the family, who it appears disapproved of his lifestyle and paintings of semi-clad beautiful women.
He spent some time in Italy and returned to London in 1921. Not long after that he committed suicide at the age of 61 years old, with a suicide note in which he is said to have written that the 'the world was not big enough' for him and a Picasso.
It's true his style of painting was no longer fashionable at the time. Since then it has seen a resurgence in popularity. Some years ago I visited the Royal Academy to view Andrew Lloyd Webber's collection, which featured Dolce far Niente (1904), painted by him. It was a strange feeling to view something that he had painted, and quite beautiful it was.
Rest and relaxation
You can sit for a while and take in the air and atmosphere. There's a nice little café, where you can enjoy tea and buns. If a trip to the catacombs interests you, then you need to book that when they open annually for a day in July.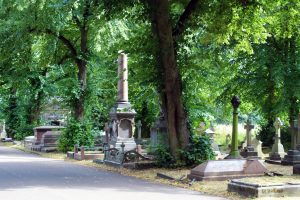 Long before the cemetery was developed it was home to a market garden and brickworks. The cemetery architect, Benjamin Baud, took the long, flat space and created elegant buildings and formal walkways.
Whether it's the grandeur of the place, or something else that draws you to the cemetery, you can be sure of a delightful visit. When you're ready to leave it's worth exploring the local areas, leaving by the North or South Gate.
Getting there
Brompton Cemetery is at Fulham Rd, Kensington, London SW10 9UG – 020 7352 1201. The opening hours can change so it's worth checking before you travel.
There are two entrances to the cemetery. The South Gate is just off Fulham Road and the North Gate is off Old Brompton Road.
The closest Tube stations are West Brompton on the District line and Earl's Court on the District and Piccadilly lines. Both of these are closer to the North Gate.
Several buses serve the local area, including the 14, 74, 190, 211, 328, 414, 430, C1 and C3.