If you fancy a bit of indulgence and love caviar then head over to London's Piccadilly and visit Caviar House and Prunier, almost next door to the Ritz.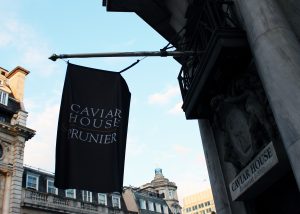 Maison Prunier joined forces with Caviar House in 2004 and are one of the oldest suppliers of caviar. Since 1885 they've been catering for the caviar gourmands. And by breeding the species they're also helping keep them from the brink of extinction. They argue that the farmed caviar is purer as it has time to go through a cleansing process. The lakes of their farmed sturgeon lie in the countryside outside of Bordeaux. The rest, as to be expected, comes from the Caspian Sea.
At their London shop you can sit and indulge, or purchase to take away. Caviar is the perfect gift. There are beautiful tins to collect that echo the treat to be found inside. And Caviar House and Prunier have devised new packaging that ensures your caviar stays at the same temperature for 30 hours. That basically means you can fly anywhere in the world and treat your friends to a delicacy that's made its way from Europe or the romantic shores of the Caspian.
A little further down the road is Fortnum and Mason, London's premier store, who offer a selection of caviar including tins decorated with Swarovski crystals. They stock a range of wild, tame and organic caviar. According to their buyer, "Caviar is very popular and people serve it according to their means. Some have it for a celebration; others use it as a topping for baked potatoes."
Tantalising the taste buds
However you enjoy this delicacy is your choice, but purists will argue that to really enjoy the quality of the roe you need to eat it in the traditional way, off the back of your hand. Or you could serve it on blinis. But the cardinal sin would be to use a metal spoon as this oxidises the caviar and ruins the flavour. And what a flavour.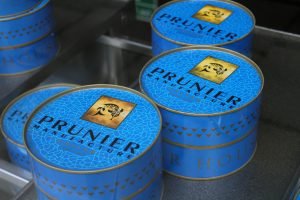 Walnuts and cream, mellow Brie, salt and the sea can all describe the taste of this sought after delicacy. A favourite of shahs, tsars and oligarchs, this is the ultimate indulgent food often served from gold tins with gold spoons such as the Almas 'golden' caviar. So rare is this caviar that Prunier only get a maximum of two shipments a year and the waiting list is years long.
Fishy facts
Almas comes from a Oscietre sturgeon over 80 years old, or an albino fish, both producing pale eggs that deliver a light, delicate flavour. This is definitely the caviar for connoisseurs. Its gold tins are reverently placed in a specially veneered wooden humidor. And to experience this creamy subtle delicacy you'll need and very healthy bank balance. This truly is a dish to be savoured and enjoyed indulgently at leisure.
The finest black caviar in the world comes from the Beluga. Barely more than 100 fish are caught each year and they can live to be 100 years old. Growing up to six metres in length they can weigh in at around 2,500 lbs. These sturgeon produce the biggest eggs, prized for their large grain and fine skin. And they can range from black to pale grey in colour. No two crops of caviar taste exactly the same. Each fish produces eggs that carry its own imprint and consequently each harvest delivers subtly different flavours. Traditionally, the term caviar refers only to roe from wild sturgeon in the Caspian Sea and Black Sea – see below, taken on a trip to Odesa a few years ago.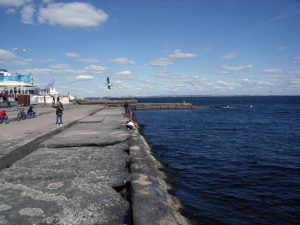 The Oscietre sturgeon is a bottom feeder and its eggs take on the taste of whatever it's been eating. But by comparison to the Beluga they're just youngsters as they only live to between 60 to 80 years. The third type of caviar producing sturgeon is the Sevruga. It's the smallest and lives for around only 30 years. It's also the cheapest.
A sturgeon takes at least 15 years to reach reproductive age. At present they have to be killed to harvest the caviar, which is all the more reason to try the farmed variety.  After all, this is a fish that's survived for over 200 million years.
Getting there
Caviar House and Prunier and Fortnum and Mason are a few steps away from each other on Piccadilly. The closest tube is Green Park on the Piccadilly, Jubilee and Victoria lines.
Caviar House and Prunier, 161 Piccadilly, St. James's, London W1J 9EA.
Fortnum & Mason, 181 Piccadilly, St. James's, London W1A 1ER.