London is more than its sights and material things. It's about the people who populate its streets, the Londoners, from all walks of life, that visitors meet every day when they're out and about.  Michelle Huet talks to me about her London.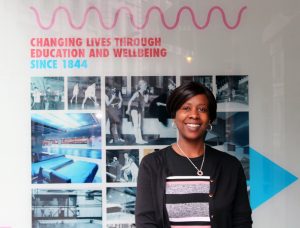 Michelle Huet's dazzling smile is the first thing that greets me when I walk through the doors of the Central YMCA, off Tottenham Court Road. My spirits lift and somehow swimming seems that much easier after such a warming welcome.  This is the first ever YMCA and it's holding its own very well, thank you. Michelle Huet is front of house manager and there most weekends.
"I've been here about eight years now," Michelle explains. "I started off as a home-carer and then I became an auxiliary nurse before coming here. I love the work and the members. I love the people; it feels like friends and family. As far as I'm concerned no gym is as friendly as here. Everywhere you go you see members talking, it's very social." Michelle does most of the receptionist training as well and believes it's 'important to greet people and say hello'. "We've got a great team," she says.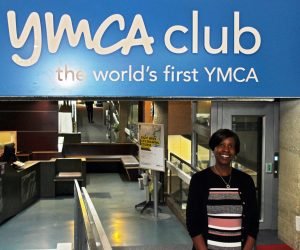 Getting to work from Chingford, a district in North East London, takes around an hour's travel on bus and tube. It's clearly no sacrifice. Michelle was born in Hackney. "I was brought up in East London and I love it,' she says. 'I know my parents are from the West Indies. But if someone said, how would you describe yourself, I'd say I'm British, I'm a Londoner. This is all I know and I would never leave. When I travel I can't wait to get home."
Getting to know us
"London is special for me because it's so diverse," says Michelle. "I love London because you never know who you're going to meet."
Do Londoners stand up to their reputation of being standoffish I ask and get a resounding 'no'.  "We are friendly. If you talk to us I guarantee that you'll be spending your time and think, why did I start as I'm in a rush? We're just focused on where we're going. It's very busy, but if you speak to someone for directions we always go out of our way to show you or talk to you. This week at the station I saw a guy ask someone for directions and he said, follow me, and they went off together."
"I think London is friendly. I've spent all my life in London and I've always felt safe," Michelle remarks.
Places to see
"I'd say central London has something for everyone. Museums are all free, which is great and I like the Natural History Museum and the Science Museum. I like the South Bank, especially in the summer. There is the London Eye and so many other things to see," says Michelle.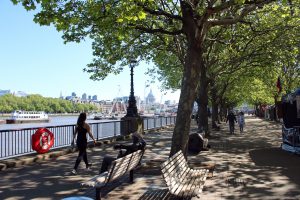 "I love theatre. Hamilton is absolutely amazing. I recently saw the Lion King, which was good. And Mary Poppins is on my list. The thing is, it's quite expensive, but worth it. There are also some great cinemas in Leicester Square (where they hold the premieres).
Covent Garden is great for the street performers. It's always buzzing."
Out and about
"There are a lot of street markets in London," says Michelle. Walthamstow market is relatively local to Michelle and she says, "It was always well known because it had everything there." It claims to be the longest market in Europe and it's a Londoner's market with fruit, veg and many other things thrown in.
Michelle also recommends the William Morris Gallery in Walthamstow, which she says 'is fantastic.' It is the only public museum devoted to the English Arts and Crafts designer and early socialist William Morris.
Closer to central London, Michelle rates the Emirates Air Line which crosses the River Thames between Greenwich Peninsula and the Royal Docks. It's a cable car journey that takes around 10 minutes with views over the Millennium Dome, officially known as the O2. You might even see walkers on the roof of the dome as you cross over, an activity that Michelle's sister took part in and thoroughly enjoyed.
Dining in the city
"I love Soho and Leicester Square for nice restaurants," says Michelle. "In London you can find something for everybody with lots of vegan and vegetarian restaurants.  I went to Brixton recently and was surprised at how it had changed with lots of nice restaurants. It's very hip and trendy now with nice bars."
Getting there
The YMCA Club is at 112 Great Russell Street, WC1B 3NQ. The closest Tube is Tottenham Court Road on the Central and Northern line. It's a two minute walk.
The Natural History Museum is at Cromwell Road, SW7 5BD. The closest Tube is South Kensington on the Piccadilly, District and Circle line. They are a five minute walk from the Exhibition Road exit.
The Science Museum is at Exhibition Rd, South Kensington, SW7 2DD. It's next door to the Natural History Museum and is served by the same Tube lines.
The London Eye is on the South Bank at Bishop's, SE1 7PB. The closet Tube is at Waterloo station on the Jubilee, Bakerloo and Northern lines.
The William Morris Gallery is at Lloyd Park, Forest Rd, E17 4PP. The closest tube is Walthamstow Central station on the Victoria Line and National Rail. It's a 12 to 15 minute walk from the Tube, or a short bus ride. The bus number 34 or 357 heads in that direction.
The Emirates Air Line is at 27 Western Gateway, Royal Docks, E16 1FA. Take the Jubilee Line to North Greenwich Station and then it's a short walk to Emirates Greenwich Peninsula to take the Emirates Air Line to Emirates Royal Dock. You can use an Oyster Card on the cable car if you have one.
The Millenium Dome is at Peninsula Square, Greenwich Peninsula, SE10 0DX. The same directions apply as those to the Emirates Air Line. The difference is that you have a short walk from the Tube at Greenwich Peninsula.