It's the many facets of London that make up the kaleidoscope of this vibrant city. Those make it special in so many ways. It's the mix that animates the capital and a major part of that is London's green spaces. They attract the walkers and strollers, the picnickers and the joggers. Importantly they also attract wildlife, which sometimes spills over onto the streets.
Four times now I've been thrilled to see an urban fox. I don't think it's the same one as my sightings have spread from my front door to the park and an old fellow ambling down the street early on a Sunday morning.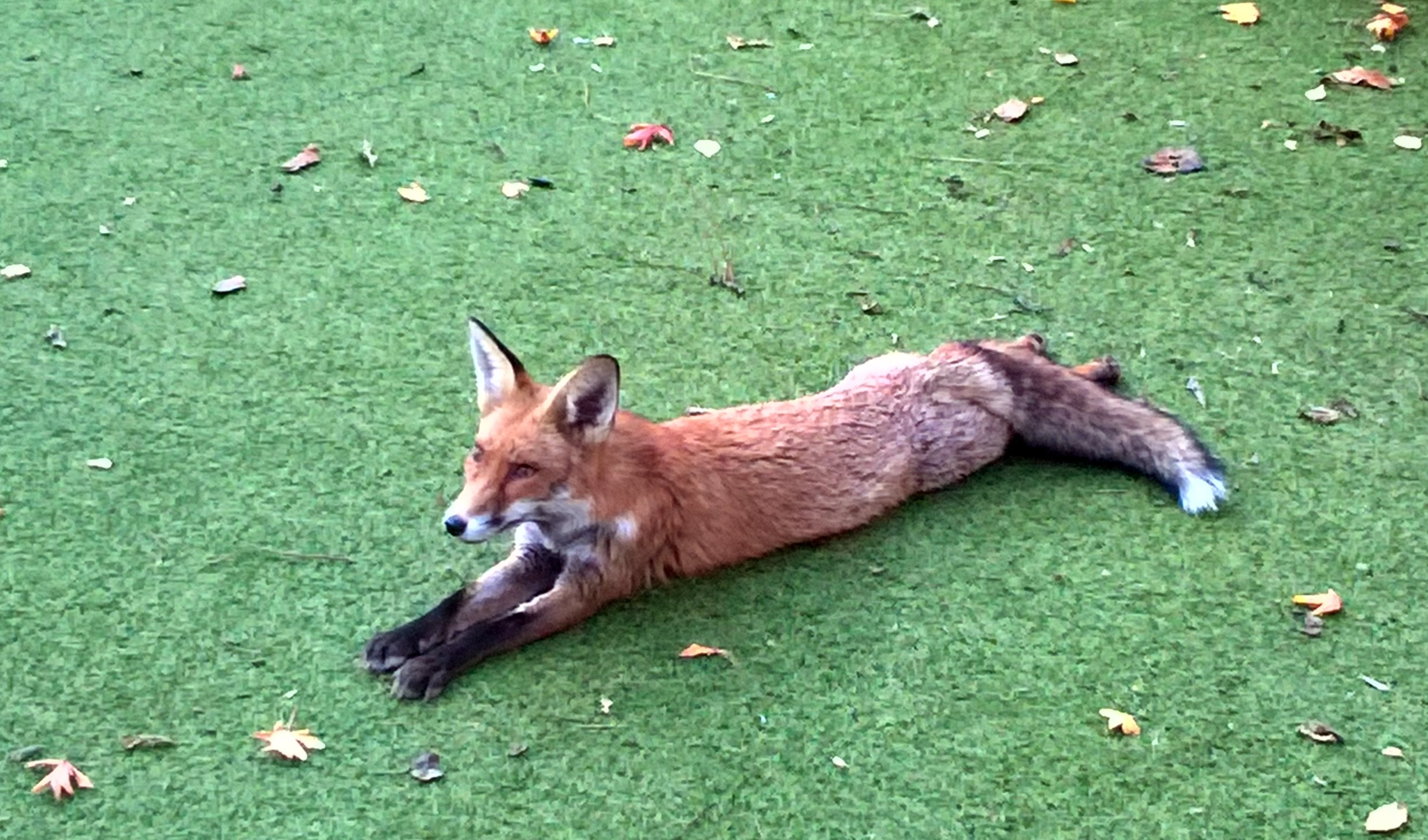 My last encounter was with a fox that lay like a dog near my feet. He seemed so tame that I felt I could lean over and stroke him.  Needless to say, I didn't. I'm told that foxes are not uncommon and that London has 18 foxes every square kilometre. However, it's still a thrill to have a sighting.
The lungs of the city
Any visit to the capital should include its green spaces. There are 3,000 parks of varying sizes. And while you might not imagine it, they make up almost 18% of London. That's more than the area covered by the railways and roads combined.
There are eight Royal Parks spread over 5,000 acres and five are in the centre of town.  They are on land originally owned by the monarchy for recreation such as hunting. Three are close to central London's royal residences. St James's Park, Green Park and Hyde Park all border Buckingham Palace.
Birds in St James's
From St James's Park there are good views of the Palace through the trees. You can also enjoy the bird life on offer. A special pond attracts the pelicans, which nest there. They first arrived in 1664 as a gift from the Russian ambassador.
There are herons and a large selection of waterfowl. Canada and Greylag Geese are common, alongside more exotic birds, such as black swans. And a flock of ring-necked parakeets dart through the foliage with their striking green feathers. They're very partial to any handouts of food.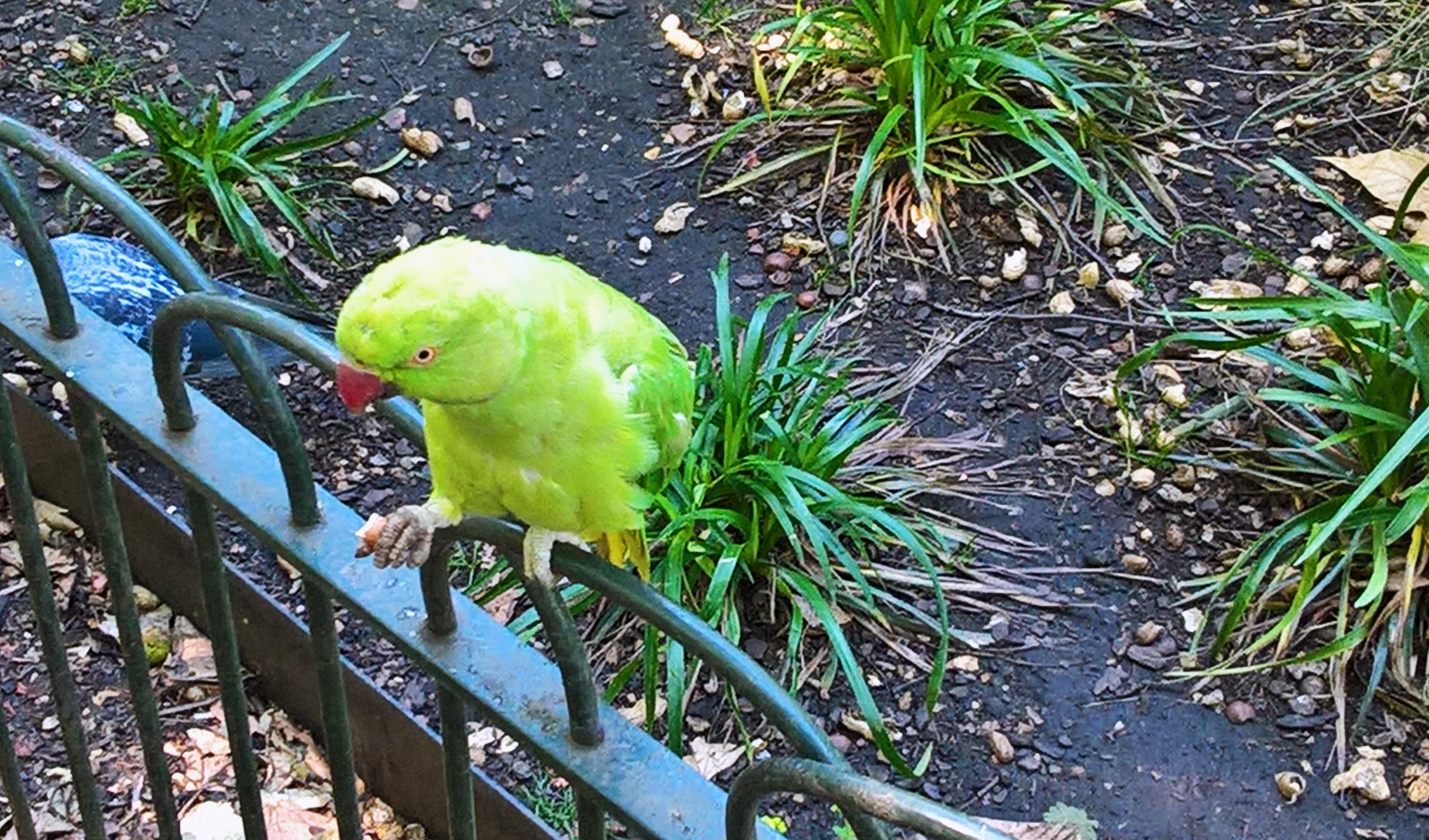 London, like any city, has its fair share of birdlife. The birds of St James's Park are a little more flamboyant then elsewhere. But if you stop and listen you will also hear the birdsong of Robins, Thrushes, Blackbirds and more. If, like me, you're lucky, you might even see a wren darting in the undergrowth.
Squirrels turn up in abundance across London's green spaces and delight with their antics. In Lincoln's Inn Fields you can see their nests (dreys) high up in the trees once the summer leaves have fallen. The drey is usually built of twigs, dry leaves, and grass.  One day I was alerted to a lot of rustling. It was a squirrel with a mouth full of autumn leaves darting up a trunk. To build or repair his drey, who knows?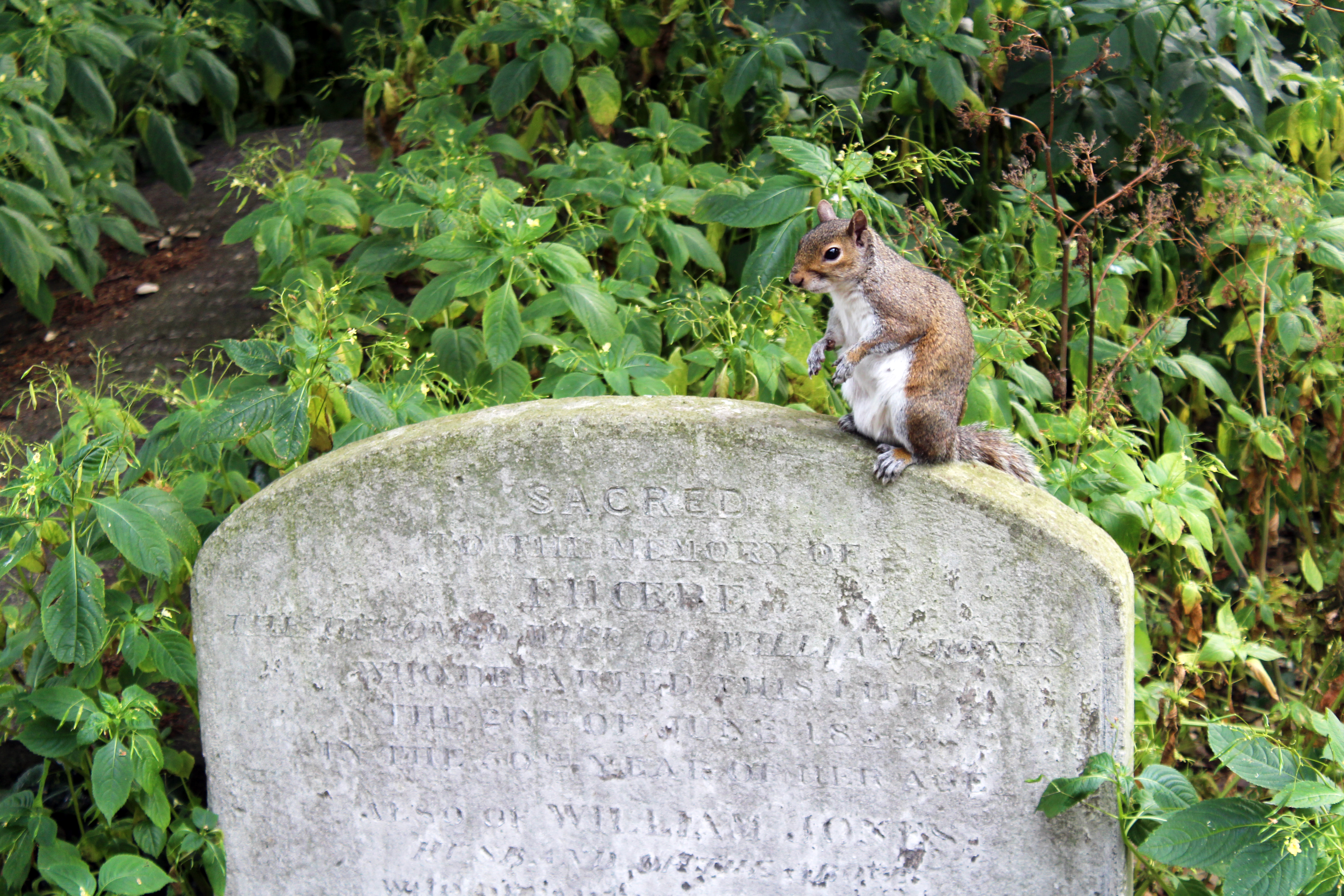 Pigeons in the doghouse
Pigeons have dropped down the popularity stakes since I was a child. I recall one highlight of a trip to London when I fed the pigeons in Trafalgar Square. They used to sell seed especially for them. Holding out a small hand, full of grain, was enough temptation for a pigeon to land on your palm and peck away. It was such a thrill for me as a tiny tot. Now time has moved on and the ban on feeding them has long been in place. That doesn't stop them congregating though, despite sending hawks into the Square to shoo them off. Their presence is felt all over town. A pigeon or three cooing away on my window ledge is part of city life. And now there is a new kid on the block, the bad boy gull.
I have to confess I love them. Despite their screeching, there's nothing lovelier than seeing a gull in flight with its large wing span sparkling in the sun. They get a bad rap and some consider them dangerous, but I remain partial.
With the abundance of green spaces it's not surprising that In July 2019 London was declared the world's first National Park City. The aim is to make more than 50% of the city green 2050. In the meantime there is no shortage of quiet spaces to breathe in the spirit of London while watching wildlife unfold around you.
Getting there
St James's Park is in central London in the City of Westminster.
The closest tube stations are St James's Park on the District and Circle Lines, Green Park on the Piccadilly Line, Jubilee and Victoria Line, Victoria Tube on the District, Circle and Victoria Lines and Westminster on the Circle, District and Jubilee Lines.